Our stores at the airport
The Duty Free stores at the Fuerteventura airport offer hundreds of products
in cosmetics, liquors, and food items. All our products are sold at a reduced price thanks to the airport's tax exemption. Make the most of your wait time in Fuerteventura by shopping at Fuerteventura Duty Free.
The Fuerteventura airport has one Duty Free store, which is in the Departures terminal at the airport. It has opening hours that range from 6 a.m. to 10 p.m. In this store, you'll find cosmetic products and fragrances from brands like Lancôme and Calvin Klein, as well as tax free liquors by Jack Daniel's and Johnnie Walker. In our food section, you'll find a fantastic selection of chocolates by brands like Kit Kat and Lindt. You can also buy souvenirs, toys, and tax free tobacco.
Duty Free also offers the Reserve & Collect service, which allows you to shop online through the Fuerteventura Duty Free website. Select and reserve your favorite tax free products through our website. Afterward, simply pick up your order at the Duty Free store up to two hours before the departure of your flight.
Make the most by shopping at Duty Free stores and buy name brand products at a reduced price thanks to the airport's tax exemptions. If you place your online order through our Reserve & Collect service, you will be saving time as all you have to do after is pass through our store to collect your order at a Pick up Point. Enjoy your flight and come visit us at Fuerteventura Duty Free!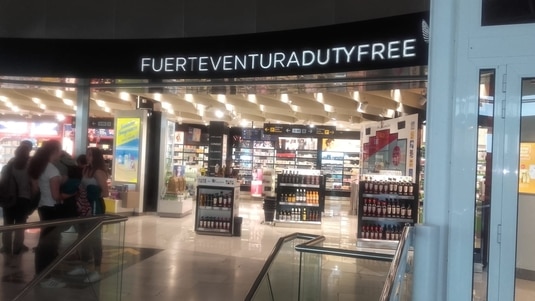 Fuerteventura Duty Free
Location

Departures Terminal

Shop Categories

Beauty-Tobacco-Liquor-Confectionary-Souvenir-Toys

Phone Number

Spain: 900 25 24 23
Outside Spain: +34912742542

Email

atencion.clientes@dufry.com

Opening hours

06:00 to 22:00
---